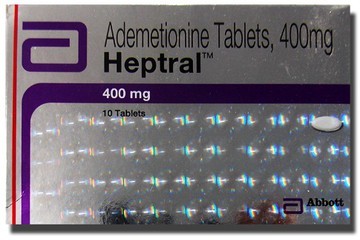 Ademetionine Tablets, 400mg
Product Code : SPPL037
Product Specifications
Drug Type

:

Generic Drugs
Physical Form

:

Tablets
Dosage Guidelines

:

As Determined by Doctor
Suitable For

:

Suitable For All
Storage Instructions

:

Keep in Cool Place
Product Description
Trusted among clients for certified medicines, we are exporting Heptral 400 mg (Ademetionine tab) since years. The medicine is a form of amino acid methionine. Procured from reputed vendors in the market, these medicines are stringently tested on various standard quality parameters before the final delivery in the market. We are offering the entire stock of Heptral 400 mg (Ademetionine tab) to clients at highly competitive price.
Useful for treating the symptoms of:
Ademetionine plays a role in the immune system maintains cell membranes and helps produce and break down brain chemicals, such as serotonin, melatonin, and dopamine of

Depression
Cirrhosis of the liver
Chronic viral hepatitis
Jaundice in pregnancy
Gilbert's syndrome
Fibromyalgia
Nerve problems related to AIDS
Cholestasis (blocked bile flow from the liver to the gallbladder)
Specifications:
Brand : Heptral Tab
Contain: Ademetionine Tab
Strength : 400mg
Packing: Tablet
Benefits of ademetionine:
Ademetionine is effective in relieving the pain of osteoarthritis. The benefits of ademetionine for the treatment of other conditions are uncertain. Some evidence suggests that it may help treat:

depression
attention deficit hyperactivity disorder (ADHD) in adults
cholestasis in both pregnant and nonpregnant patients
fibromyalgia
liver disease

Ademetionine is used to treat many other conditions, although there is insufficient evidence to determine whether it is helpful for these conditions. Conditions for which ademetionine is sometimes used include:

premenstrual syndrome (PMS)
heart disease
migraine headaches
spinal cord injuries
seizures
multiple sclerosis
Side effects of Ademetionine
Ademetionine is safe for most adults. However, it can sometimes cause the following side effects:

gas
constipation
diarrhea
vomiting
dry mouth
headache
mild insomnia
anorexia
sweating
dizziness
nervousness
skin rashes
serotonin syndrome
Patients with depression may feel anxiety. An upset stomach can also occur when patients begin taking this supplement. Starting with smaller doses and working up to a full dose can help the body adjust.
Patients who are allergic to ademetionine may have symptoms of an anaphylactic reaction. These symptoms include:

flushing or reddening of the skin
palpitations
dizziness
nausea