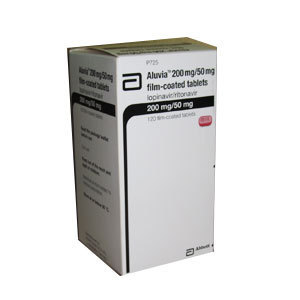 Aluvia 200
Product Code : SPPL035
Product Specifications
Drug Type

:

General Medicines
Physical Form

:

Tablets
Suitable For

:

Suitable For All
Product Description
Aluvia is a drug that contains a combination of two medicines that have an antiviral effect (lopinavir and ritonavir).

With our intensive knowledge in this domain, we are highly renowned for exporting an excellent stock of Aluvia 200: Lopinavir & Ritonavir. This medicine belongs to a specific class of medicines called protease inhibitors. It is indicated for the treatment of HIV infection. Formulated in strict tandem with industry standards using supreme quality compounds, this Aluvia 200: Lopinavir & Ritonavir is stringently tested on various standard quality parameters.
Key points:

Recommended for adults and children 14 days of age and older
It blocks protease, thus reducing the amount of HIV in the body.
specification:
Brand: Aluvia Tab
Contain: Lopinavir & Ritonavir Tab
Strength : 100mg /200mg
Packing: 120 Tab Bottle
How to use:
Aluvia can be taken with or without food. However, it is recommended to take this tablet with food in order to avoid an upset stomach. The usual dose of Aluiva tablet to treat HIV infection is 400 mg+100 mg (Lopinavir 400 mg and Ritonavir 100 mg) every 12 hours (twice a day).
Take tablets whole, with a glass of water. Do not crush tablets because it may change the efficacy of Aluvia tablets.
Aluvia tablets should not be used in combination with alcoholic beverages because alcohol can increase the effect of tablets and cause side effects.
In children, the dose of Aluvia tablet should be calculated according to the child's body weight.
Aluvia should be avoided in patients allergic to any of the active substances (lopinavir or ritonavir) as well as other similar medicines. If you are experiencing symptoms of an allergy such as
itching,
redness of the skin,
swelling,
difficulty breathing, contact your doctor immediately.
Aluvia should be used with extra precautions in patients with high blood cholesterol and high triglyceride level because this medicament markedly increases cholesterol and triglycerides.
Aluvia drug increases the risk of bleeding and therefore should not be used in patients suffering from haemophilia (type A or B).
Aluvia should be used with extra precautions in patients who have had a heart attack or have other heart disorders (e.g. arrhythmia - irregular heartbeat).
Aluvia may cause pancreatitis (inflammation of the pancreas) and therefore should be avoided in patients with pancreas disorders. If you experience symptoms such as
abdominal pain,
nausea and vomiting,
contact your doctor immediately.
Aluvia can change your blood sugar levels and should be used with extra precautions in diabetic patients. If you are experiencing symptoms such as
fatigue,
excessive thirst and frequent urination,
Immediately contact your doctor, because it could be a sign of high blood sugar levels.
Aluvia may also cause the condition called "buffalo hump" (accumulation of fat at the upper back and behind the neck). Fat accumulation may also occur at the chest and abdominal area.
Aluvia side effects:
respiratory tract infections (occurs frequently),
nausea,
vomiting,
diarrhea,
anemia,
the decrease in the number of white blood cells (leukopenia),
high blood cholesterol,
high blood triglycerides,
lymphadenopathy (enlargement of the lymph gland),
weight loss,
insomnia,
anxiety,
dizziness,
liver damage accompanied by jaundice yellowing of the eyes and skin,
hair loss (alopecia),
fatigue,
menstrual cycle disorders,
allergy and others.